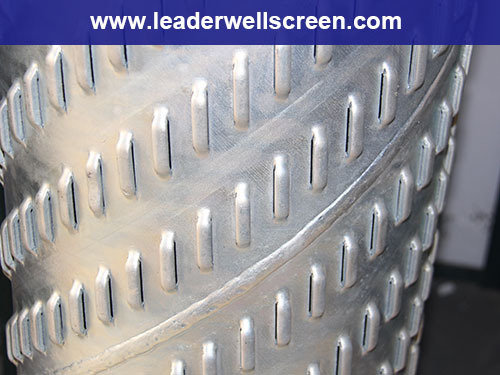 Bridge Slot Screens for deep well
Bridge slot screen.
The slots of this kind of screen are punched precisely in a flat sheet which then is rolled into a pipe.
The sand and gravel can't easily block the slot because of the special bridge style design, and Bridge Slot Screens has great mechanical strength and water entering capacity. Meanwhile,
Bridge Slotted Screens
use steel punching technology and is rolled in many ways, so they are light, cheap and easily operating.
Selection of slot size
Aquifer classification

gravel

Grouan

middle sand

thin sand

farine sand

The screening results

(mm)

1-2.5

0.5-1

0.25-0.5

0.1-0.25

0.1-0.25

Span the gap

(mm)

3

1.5-2

1

1

0.75

Packing specification

(mm)

4-20

2-8

2-3

2-3

2-3

Gravel thickness

(mm)

75-100

100

100-200

100-200

100-200
any problems ,pls mail to sales02@xxldlq.com